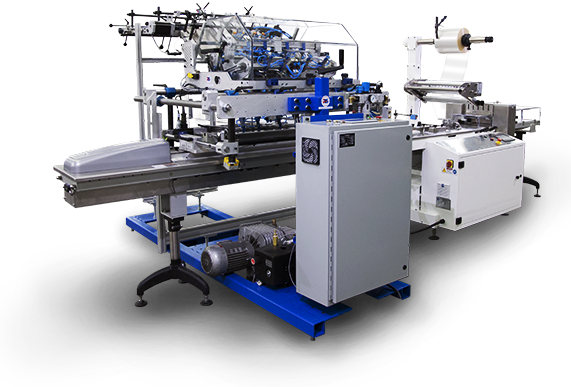 The HB924-6 Batching with Inline Wrapping System feeds and batches product at speeds up to 72,000 PPH when running dual stream configuration. With Pack-Smart's state of the art RP924-6 product is picked from the loader and placed with incredible accuracy into the batching unit below. The 6 x 360º articulating arms with suction cups are capable of handling a wide variety of three-dimensional products from sachets, to paint swatches, inlays, CR80's, and rigid windows.
At Pack-Smart our customers come first, that's why we tailor each of our systems to our customers' specific needs. We will never sacrifice the quality of your product for efficiency, instead, we will work together with you to develop systems that deliver the highest quality products at the greatest speeds available in today's market. Our modular approach to engineering allows our systems to stand-alone as well as to be integrated into existing lines, with the flexibility to add and remove features with quick and easy changeovers. On-site training and remote diagnostics from Pack-Smart guarantee that your employees will have the resources they need to succeed, ensuring your customer's satisfaction.
Speed
Speeds up to 36,000 UPH, 72,000 when utilizing dual stream.
Versatility
With the adjustable magazine and suction cups, the system is capable of handling a variety of products at high speeds.
Quality
With Pack-Smart's self-contained dual vacuum system the Rotary Pick and Place's suction cups are able to delicately handle product even at maximum speeds.