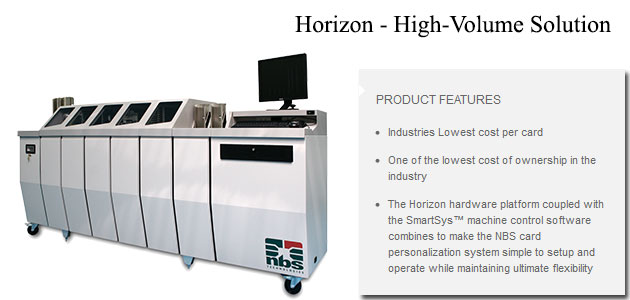 PRODUCT SPECIFICATIONS
The Horizon card personalization system is a high-volume, high-speed system engineered with individual Card Personalization Elements (CPE's) to provide flexibility and customization to meet your specific requirements. With the introduction of CPE's, the Horizon card personalization systemallows for expansion to your unit – even at a later date.

Your Horizon card personalization system will grow as your business grows. The Horizon card personalization systemis designed to meet central card issuance needs of financial institutions, service bureaus, government and healthcare organizations, telecommunications companies, and other organizations requiring high volume card issuance capabilities.

NBS offers a variety of custom-built versions of the Horizon. This ensures that we meet the specific needs of our customers with each machine. Every customized Horizon is configured, branded and supported by NBS Technologies.

For further details and information, please contact your local NBS dealer or NBS regional sales manager.

Individual CPE's are built to match your exact needs. Whether it's embossing, front and rear indenting, tipping, magnetic stripe encoding, both front and rear monochrome/color graphics printing, labeling, or smart card initializing (both contact and contactless), we can configure a Horizon card personalization system just for you.

For optimum productivity and simplicity of operation, the Horizon card personalization system uses a standard Pentium® PC and Windows® based SmartSys™ software for easy card design and data input flexibility. Add the Card Mailing System and you can take your Horizon card personalization system from start to envelope!