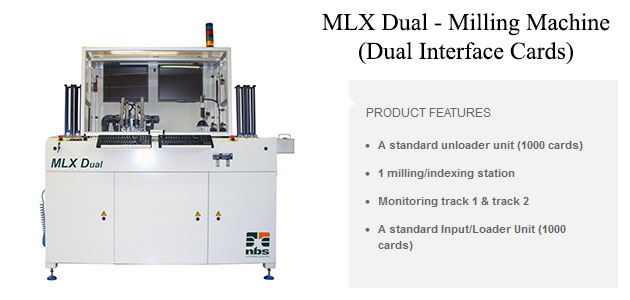 PRODUCT SPECIFICATIONS
The latest in optimised smart card manufacturing productivity solutions from NBS is the MLX Dual milling solution.
The MLX Dual was designed to meet the consumer's increased demand for Dual interface cards (cards able to handle both contact and contactless interface).
This machine draws its heritage from the renowned MLX 5000 milling machine that was designed in 2006 and became an industry leader. The MLX Dual features many options to address any high performance process needs (speed, repeatability and reliability). Some of the available options include: large magazine management in input and output, antenna detection system, auto calibration, vision, antenna continuity test, cavity depth measurement and more.
The MLX Dual is simply an easy to operate machine that is highly customizable. Not to mention that it is priced to be very competitive.
Some Options Available:
* High capacity input card magazine (up to 2000 units)
* Card thickness measuring (up to 2 Units)
* Add a 2nd milling/Indexing station (increases throughput)
* Antenna technology system
* Antenna continuity tester (up to 2 Units)
* Cavity depth measurement with monitorung (upt to 2 Units)
* NBS pad vision inspection
The Dual MLX 3D model