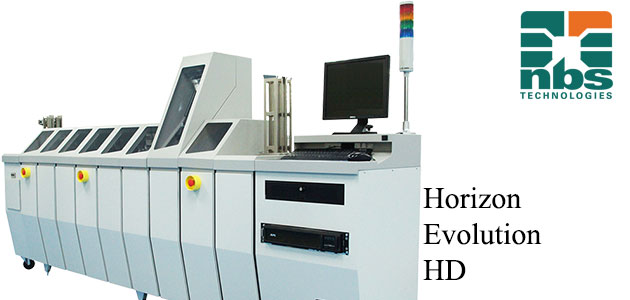 PRODUCT SPECIFICATIONS
The Horizon Evolution HD card personalization system is the expandable solution for customers requiring central card issuance solutions and is specifically designed to bridge the gap between three major markets – Financial/EMV card issuance, Telecom/GSM card issuance, and Secure government ID card issuance. The built-in flexibility of this one solution allows for seamless customization across a wide range of markets.
NBS offers a variety of custom-built versions of the Horizon Evolution HD. This ensures that we meet the specific needs of our customers with each machine. Every customized Horizon Evolution HD is configured, branded and supported by NBS Technologies.
The Horizon works in line with the NBS 1500 Mailing System to give you complete functionality of card personalization from start to envelope!
HORIZON EVOLUTION HD