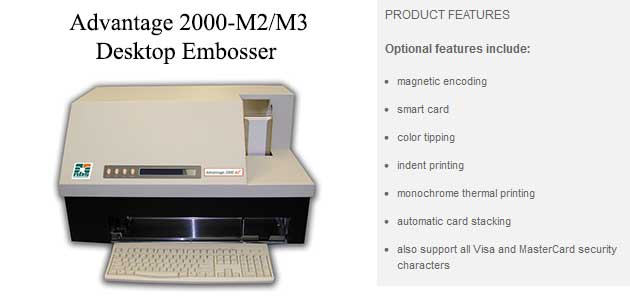 PRODUCT SPECIFICATIONS
The Advantage 2000 series is our tabletop card embosser line with a reputation that stands on its own. The Advantage M2 and M3 card embossers are both fast and easy to use and can easily manage heavy card volumes. They can be configured to include a variety of features so that in one quick pass the system can emboss, print, encode, and program a smart card.
Both the Advantage 2000M2 and M3 card embossers feature NBS's industry proven embossing technology.
The M2 and M3 card embossers are the ultimate in flexibility, the machine can be configured to meet customer requirements at the time of purchase and upgraded to include additional personalization features requirements change. Your capital investment is safe since the machine can be upgraded rather than replaced.
The Advantage 2000 M2 and M3 card embossers can be operated either online from a host system using its internal formats or connected directly to a PC using the NBS SmartSys™ Tabletop software. SmartSys™ software is a powerful Windows ® based card design and production package. Smartsys was developed by NBS and features a graphical interface for easy card design and job setup.
The Advantage 2000 M2/M3 card embosser is a great selection for any business that requires the ability to issue embossed cards instantly.